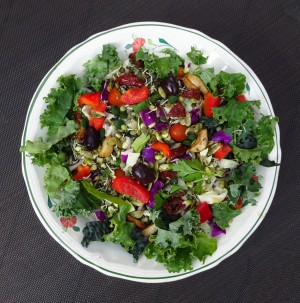 Ultimate Antioxidant Blast
Collard greens and kale consistently top the charts when it comes to powerful antioxidants and many other nutrients
Preparation time: 20 to 35 minutes
Yield: 2 servings as a full meal; 4-6 servings as a side salad
Raw ingredients for the salad
½ cup chopped or torn red boar kale, in small pieces
¼ cup snipped parsley
½ cup ripped romaine lettuce, in small pieces
¼ cup cut broccoli florets, in small pieces
4-6 cherry or grape tomatoes, cut in half
¼ cup cored, seeded, and sliced red, orange or yellow bell pepper
2 Tablespoons black-eyed pea sprouts
2 Tablespoons French lentil sprouts
1 Tablespoon sunflower and/or pumpkin seeds
1 Tablespoon chia seeds
1 Tablespoon hulled hemp seeds
½ teaspoon spirulina powder or 1 teaspoon Spirulina Crunchies
½ teaspoon blue-green algae
6 to 12 King Chlorella tablets
1 Tablespoon snipped or chopped dulse
4 pieces sun-dried tomatoes, snipped into small pieces
For the dressing (do not premix; add each ingredient in order)
1 to 2 tablespoons olive oil
Optional: ½-1 teaspoon hempseed and/or flaxseed oils
1 Tablespoon apple cider vinegar, to taste
Optional: squeeze of fresh lemon juice
Dash of sea salt
Preparation
Assemble the salad ingredients in the serving bowl.
Sprinkle chia and hemp seeds evenly.
Sprinkle or scatter the spirulina or Spirulina Crunchies and blue-green algae.
Scatter the King Chlorella tablets.
Toss to distribute.
Add the oils and toss well until all surfaces are coated.
Sprinkle salt.
"Spritz" the vinegar and toss again.
Add squeeze of fresh juice if desired.
Taste and repeat steps 6, 7 and/or 8 as needed to balance flavors.